Posted by admin on on Dec 29th 2019
Austin is home to a lot of things: live music, 6th street, tex-mex just to name a few. But one of the things that makes Austin so unique is the number of murals and street art across the city! In fact, some Austin murals are popular worldwide. Here's a list of our favorites and where to find them!
1. Greetings From Austin
Address: 1702 S. 1st Street, Austin, Texas
Made to look like a retro post card, the "Greetings From Austin" mural welcomes everyone to Austin and features some of the most unique things about the city. This mural was initially painted in 1998 by artist Todd Sanders, owner of Roadhouse Relics. Sanders and his friend Roy Skagen intended to add color to a neighborhood that was, at the time, taking a turn for the worse.
Now – over 20 years later –South 1st street is filled with businesses and shops that truly make Austin what it is and worth making a visit!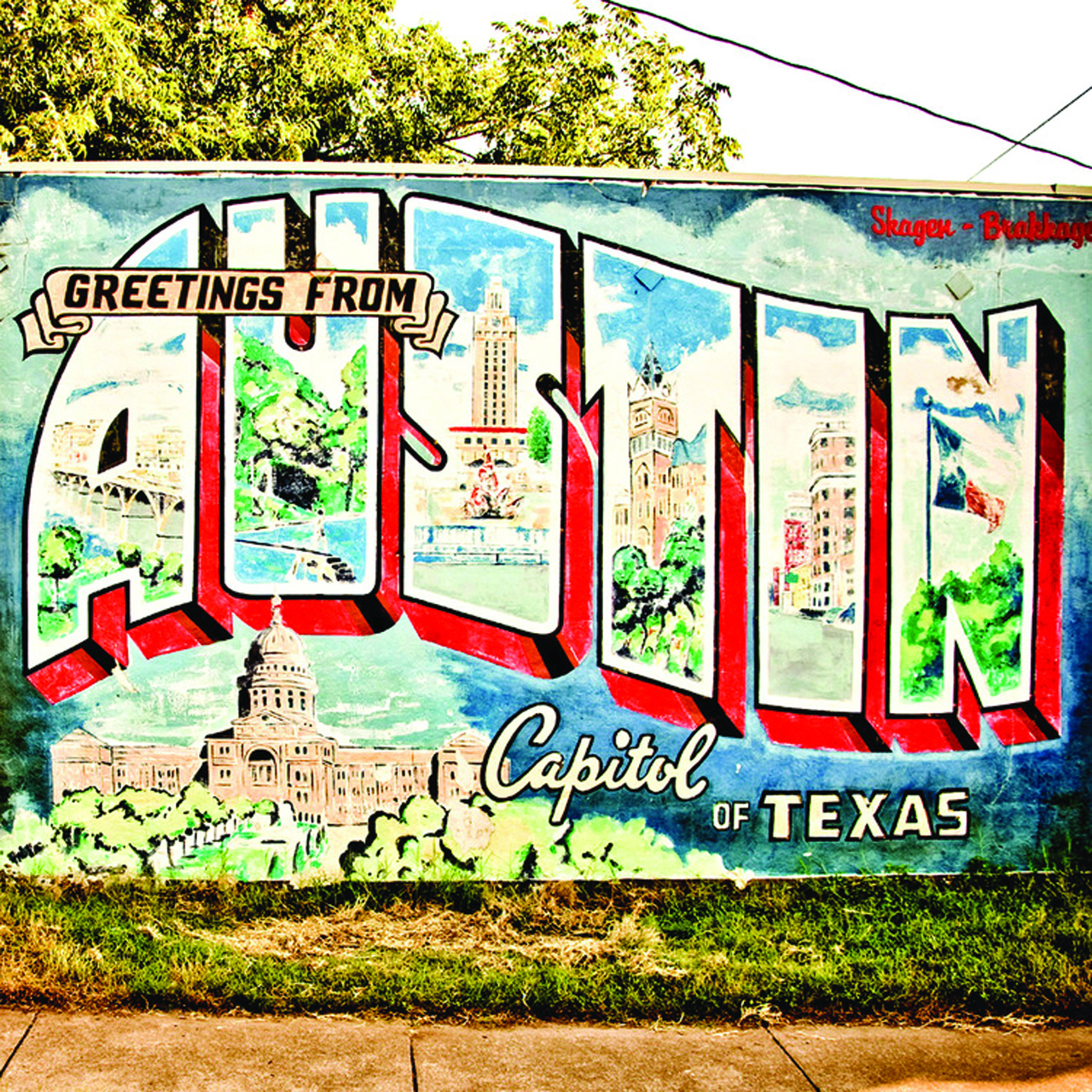 2. Historic 6th Street Mural
Address: 582 N Interstate 35 Frontage Rd, Austin, TX 78701
If you're headed to 6th street in downtown Austin you won't be able to miss this colorful mural! It was designed and painted by Sanctuary Printshop in 2012 as an homage to Austin as the live music capital of the world.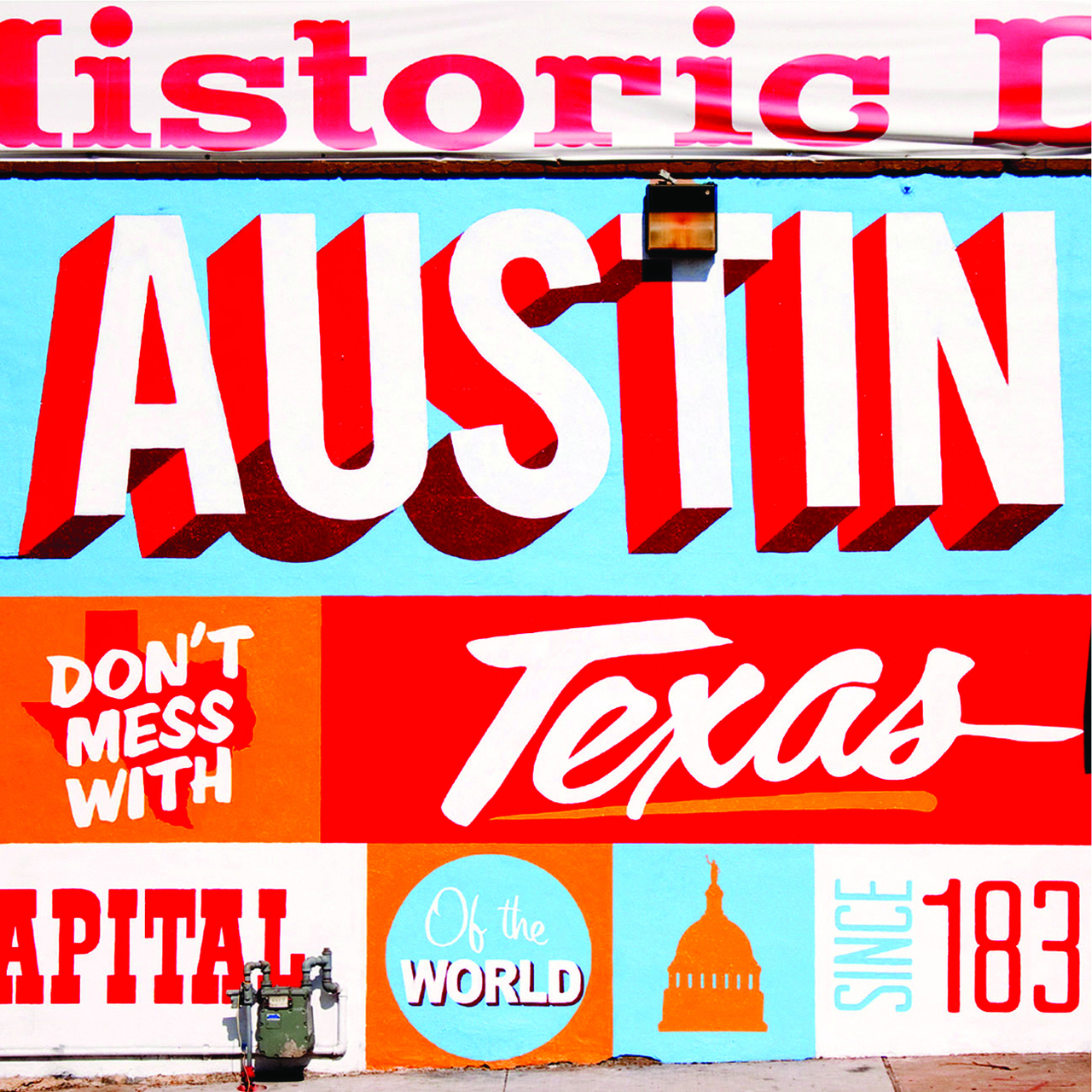 3. Mud Puppies Mural
Address: 2015 E. Riverside Drive Austin, Texas 78741
Austin is a VERY dog friendly city. In fact, most people take their pups everywhere with them around town. This popular mural is located outside of Mud Puppies, a local dog grooming shop off of Riverside Drive.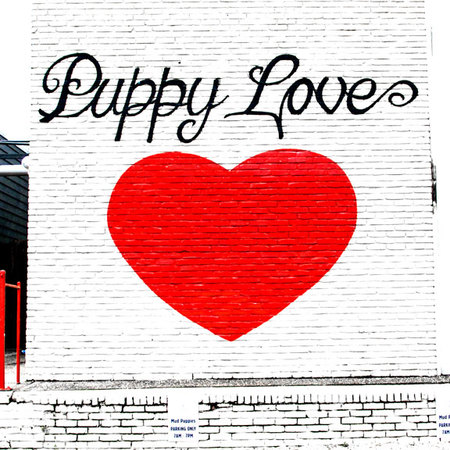 4. Hi How Are You Mural
Address: 21st Street and Guadalupe, Austin, Texas
This is probably one of the most well-known murals across the world! This mural features Jeremiah the Innocent, the wide eyed frog, and has been put on baby onesies, T-shirts and even iPhone apps.
The artwork was painted in 1992 by musician Daniel Johnston (an earlier version appeared on his 1983 album cover) at the invitation of an indie record store, which then went out of business. The mural was given a "cultural landmark" plaque in 2014.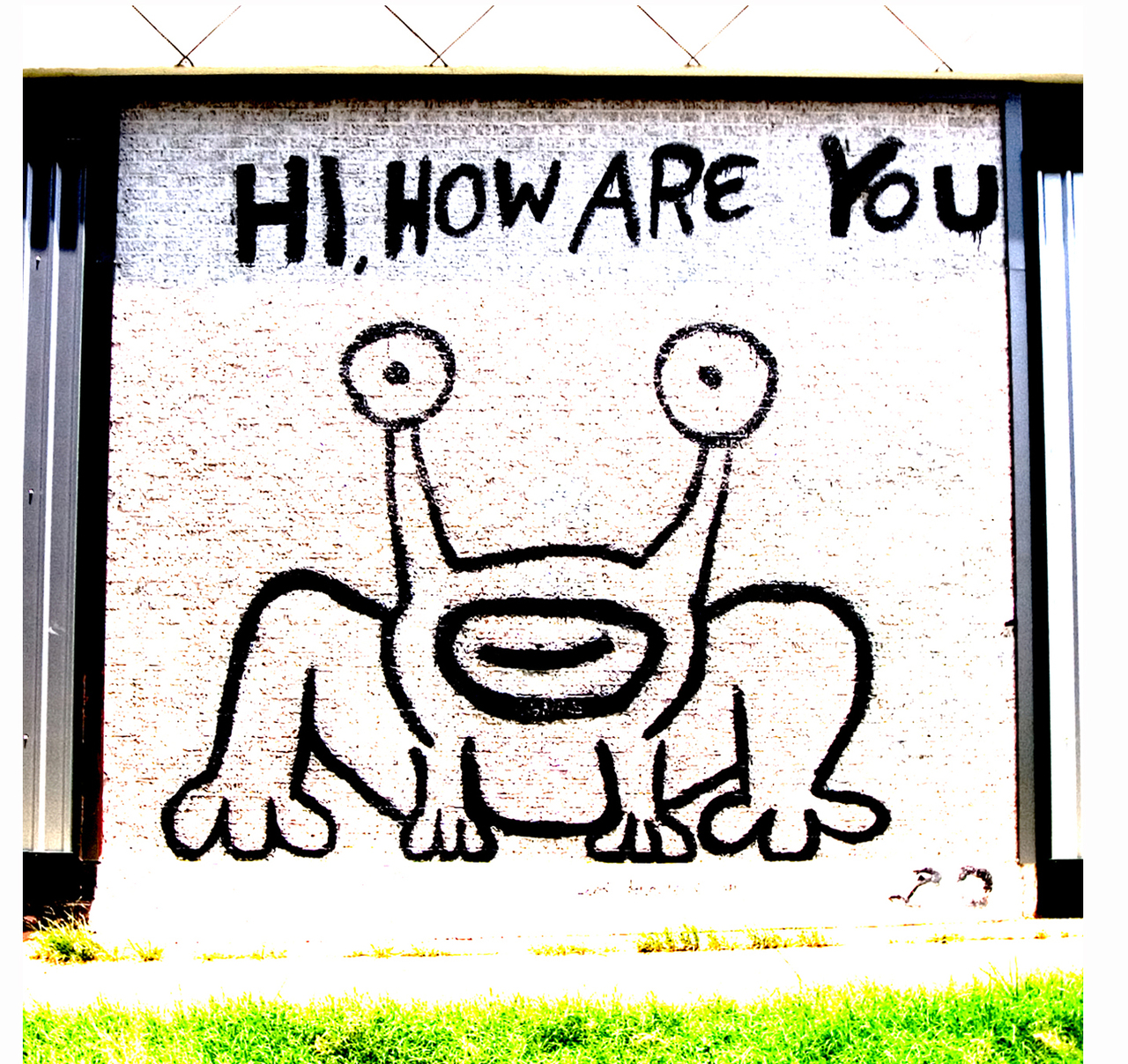 5. Sweet! You're Here Mural
Address: 5245 Burnet Rd, Austin, Texas
This sweet mural (pun intended) is located outside Kellie's Baking Co. – a local bakery known for their cookies.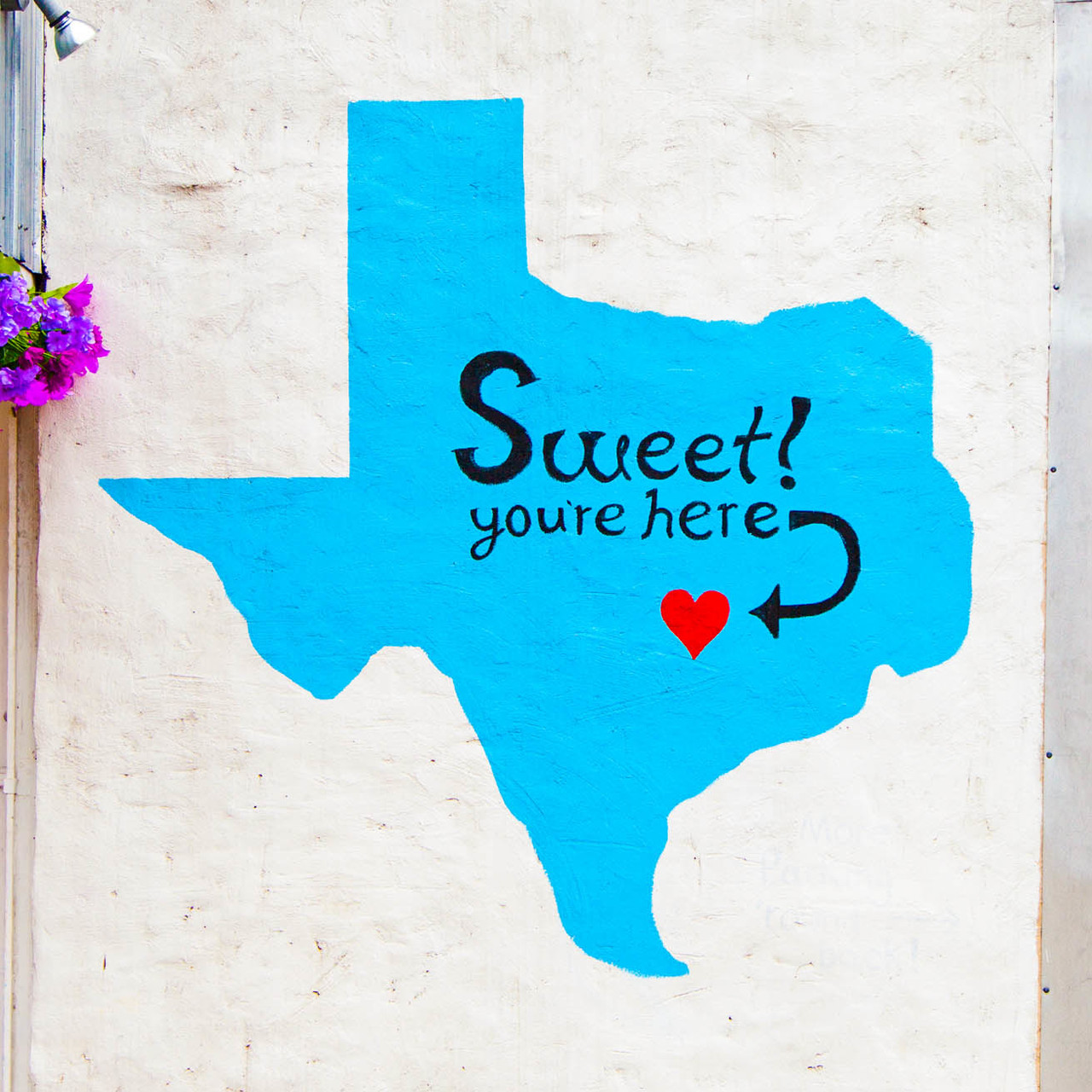 6. You're My Butter Half Mural
Address: 2000 E Martin Luther King Jr Blvd, Austin, TX 78702
This mural can be found outside the United Way of Greater Austin office in downtown Austin! Local designer John Rockwell of Creative Suitcase (now part of Mighty Citizen) provided the inspiration for the design. He and the whole Creative Suitcase team volunteered two days of their time to the completion of this meaningful and fun piece of street art that still adorns the wall of the United Way property.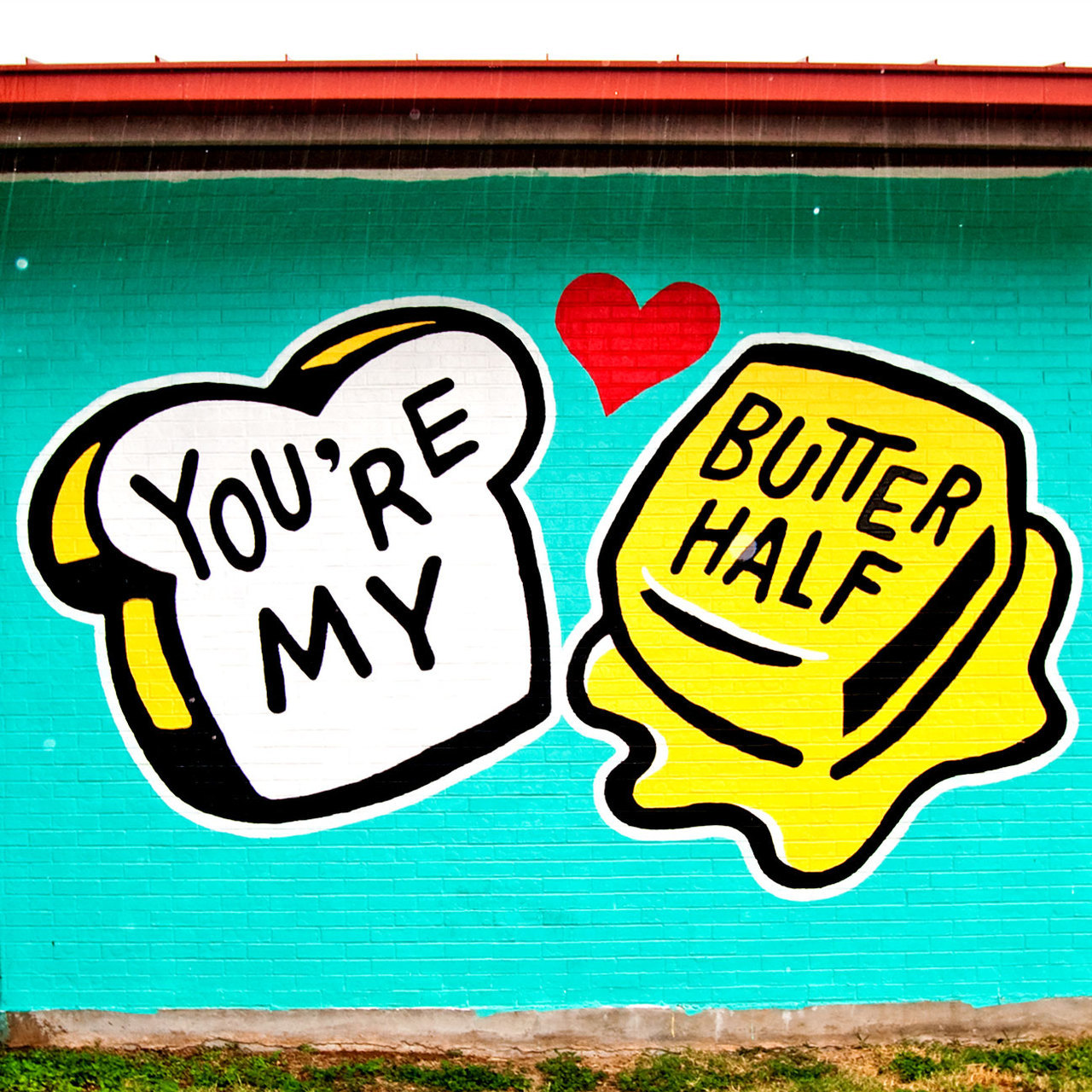 7. I Love You So Much
Address: 1300 S Congress Ave. Austin, TX 78704
This popular mural sits outside of Jo's Coffee on Congress Ave. in Austin. The mural was born after a love spat between the couple who own the popular coffee shop, prompting its creation as a peace offering.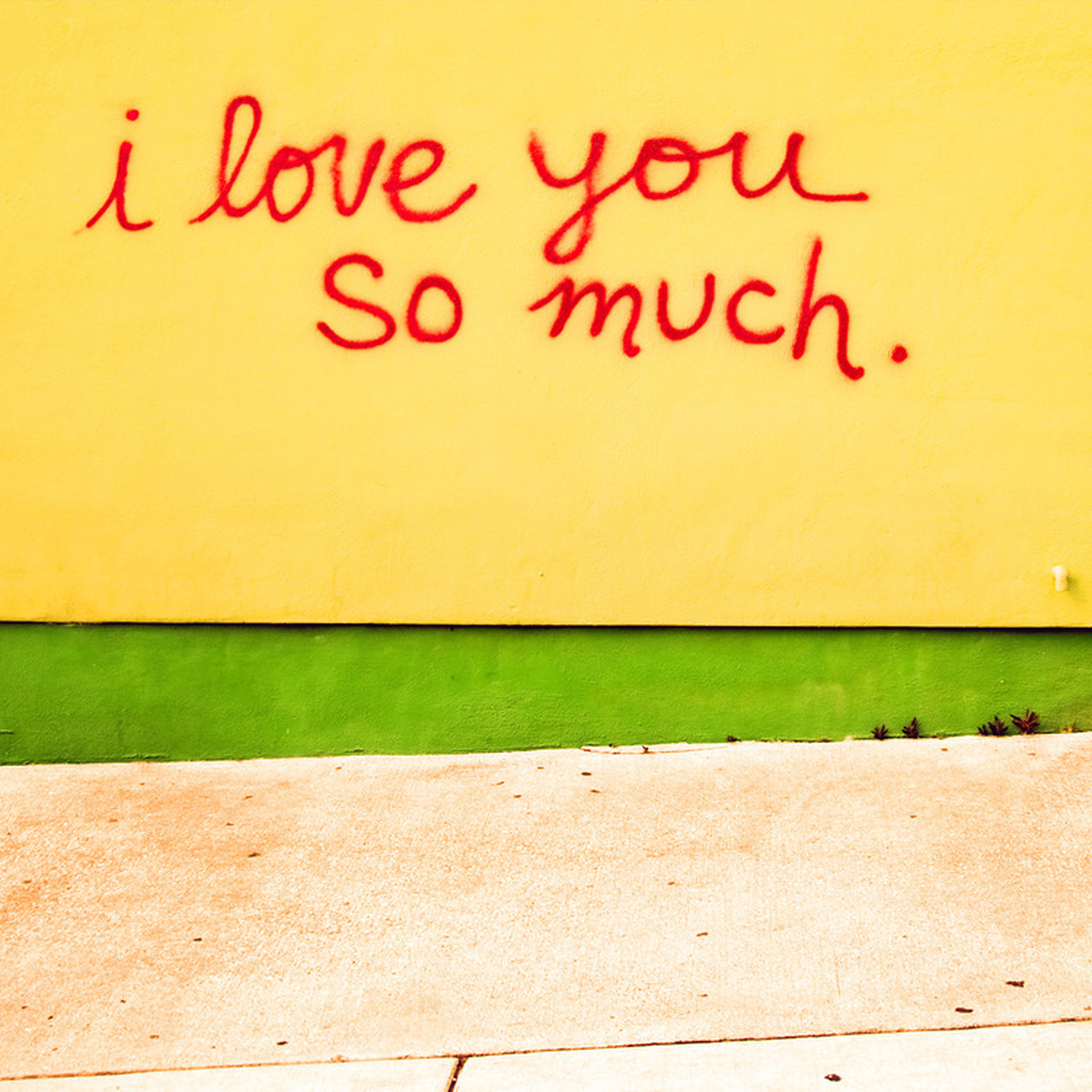 8. Live Music Capital of the World
Address: 6th Street at San Jacinto, Austin, Texas
Located on 6th Street at San Jacinto, this mural covers a wall of the Black Cat Lounge. It was painted in 2009 and depicts images of artists that helped make Austin the "live music capital of the world".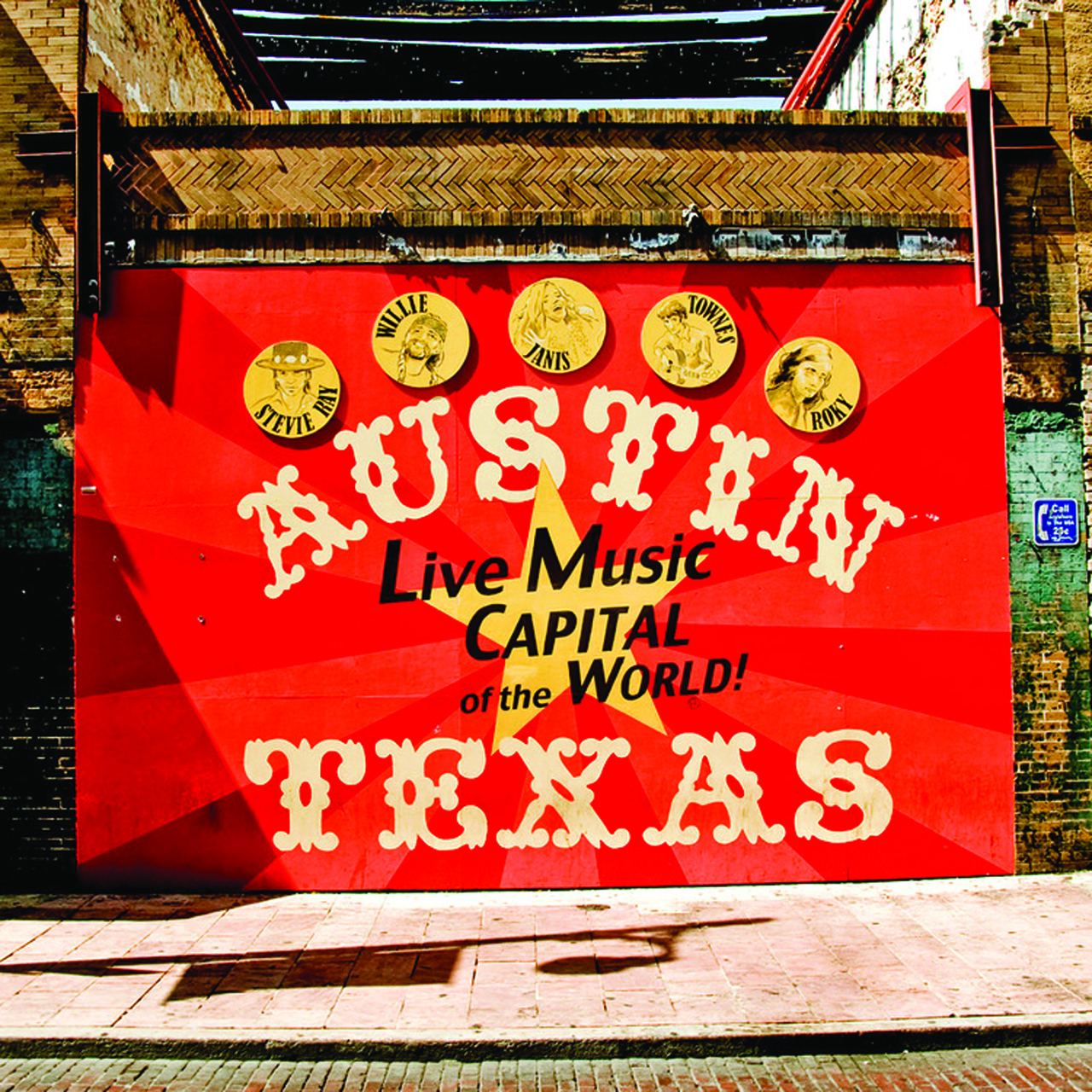 9. Don't Hate – Pee Wee Herman Mural
Address: 1415 S Congress Ave, Austin, TX 78704
This mural was put up behind Home Slice on Congress Ave to block the view of the dumpster area. This piece showcases the comical character Pee-wee Herman.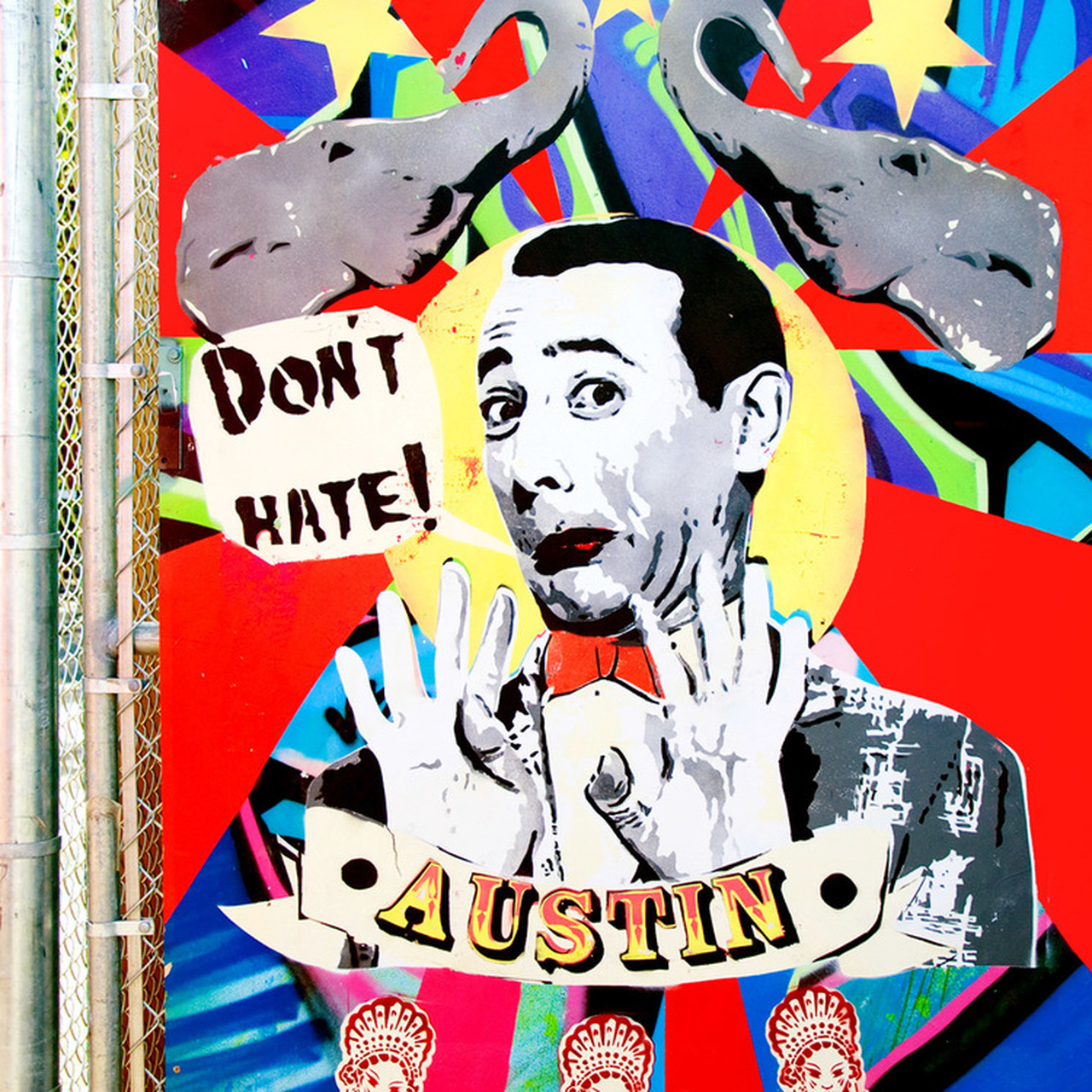 10. Willie For President Mural
Address: 100-130 E Elizabeth St, Austin, TX 78704
Willie for President mural lines the south wall of STAG Provisions for Men at 100 East Elizabeth Street in South Austin. The mural was drawn by Jacqui Oakley with type and background designed by Erick Montes and painted by Joe Swec.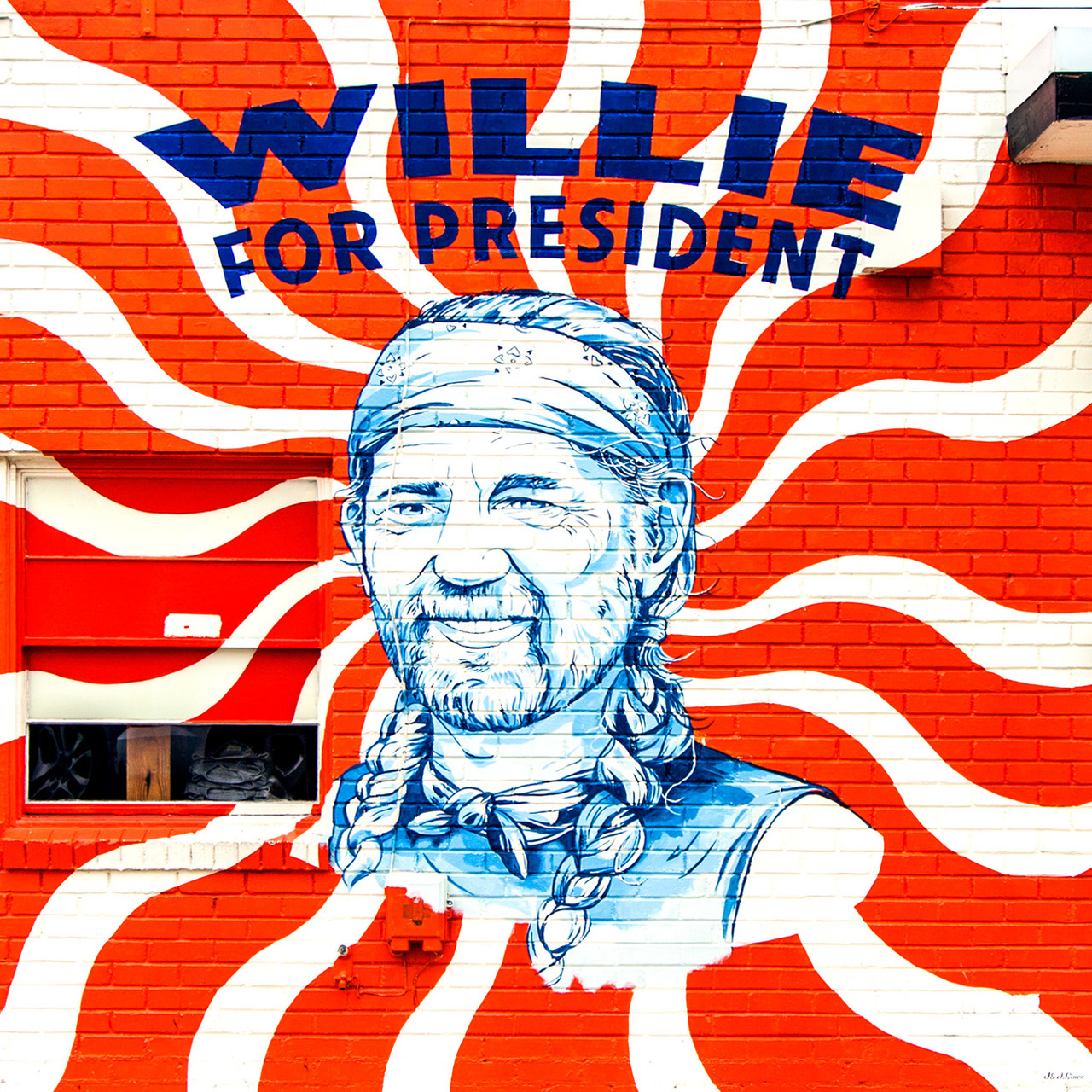 11. Love Is The Question, Love Is The Answer Mural
Address: 1115 West Lynn Street, Austin Texas
Daniel Johnston, the artist who created the "Hi, how are you?" mural, is also responsible for this one in Austin!
The mural features a superhero, with the phrase "Love is the question, Love is the answer," and was produced in conjunction with the Austin-based advertising firm GSD&M. The superhero-themed artwork is part of a campaign to raise money for Superhero Kids, an organization that provides financial support for families of kids at Dell Children's Blood and Cancer Center.